Cat Spray
Regular price

£14.99

Sale price

£14.99
Dear Anicura customer,

Unfortunately, our Cat Spray is temporarily sold out. We have however decided to accept pre-orders, meaning that if you place your order now, it will be shipped as soon as the new stock lands, which we're expecting to be around December 15th. Please note that all the products in your order will be shipped together once the Cat Spray is back in stock. Thank you for your support and your patience!
Our Anicura Cat Spray was made to provide instant relief and long-term benefits for cats prone to itchy, dry and flaky skin, eczema, feline dermatitis and skin allergies.
This easy-to-use Spray contains 15 natural oils and extracts and works in two ways. Firstly, it instantly breaks the itch/scratch cycle by providing immediate hydration and cooling ingredients such as Peppermint and Eucalyptus. Secondly, the wealth of nutrients in the Spray provides the skin with everything it needs to find its healthy balance again, resulting in stronger, healthier and more resilient skin over time.
Designed to instantly break the itch/scratch cycle
Fine liquid sinks in quickly and provides deep hydration
Full of vitamins and minerals to strengthen the skin over time

Non-greasy and easy to apply on longer fur or larger areas
Safe if accidentally ingested
For best results, use together with our Anicura Cat Gel and Cat Shampoo.
1% will be donated to
Blue Cross for pets
How to use

We recommend applying the Spray 3-4 times a day at first (although it will not do any harm if you feel you need to apply more frequently than this). When you start to see an improvement, you can reduce the frequency to 1-2 times a day. When the skin has returned to relative normalcy, you can continue using the Spray a few times a week to keep the skin topped up with moisture and nutrients.

For best results, use together with our Cat Gel.

If your pet is short-haired, just spraying the product on may be enough. You can however use your hands to help massage the product into the skin. If your pet has long or thick fur, we would recommend one of three options. 1) You could spread out the fur a bit, spray as close to the skin as possible and work the product into the skin with your hands. 2) You could also spray the product onto your fingertips and run your hands through the coat along the affected area. 3) You could spray the product onto a brush and work it into the coat that way. Option 2 and 3 are also perfect if your pet is easily started by the spray noise. When using the Spray on the face and around the eyes, we would recommend applying via a cotton pad or your fingertips to allow for a more controlled application. In these cases, you could also use the Gel.
Ingredients

Aqua, Glycerin (Vegetable), Helianthus Annuus Seed Oil (Sunflower), Carthamus Tinctorius Seed Oil (Safflower), Glycol Stearate SE, Polyglyceryl-6 Stearate, Sodium Cetearyl Sulfate, Lecithin, Vitis Vinifera Seed Oil (Grape Seed), Isononyl Isononanoate, Hippophae Rhamnoides Kernel Extract (Sea Buckthorn), Eucalyptus Globulus Leaf Oil (Eucalyptus), Urea, Limonene, Citrus Aurantium Dulcis Peel Oil (Sweet Orange), Melaleuca Alternifolia Leaf Oil (Tea Tree), Polyglyceryl-6 Behenate, Caprylyl Glycol, Sodium Chloride, Phenoxyethanol, Lavandula Angustifolia Oil (Lavender), Rosmarinus Officinalis Leaf Oil (Rosemary), Ethylhexyglycerin, Olea Eeuropaea Fruit Oil (Olive), Prunus Amygdalus Dulcis Oil (Sweet Almond), Linalool, Aloe Barbadensis Leaf Juice Powder (Aloe Vera), Mentha Piperita Oil (Peppermint), Citral, Rosmarinus Officinalis Leaf Extract (Rosemary), Beta-Carotene.
Share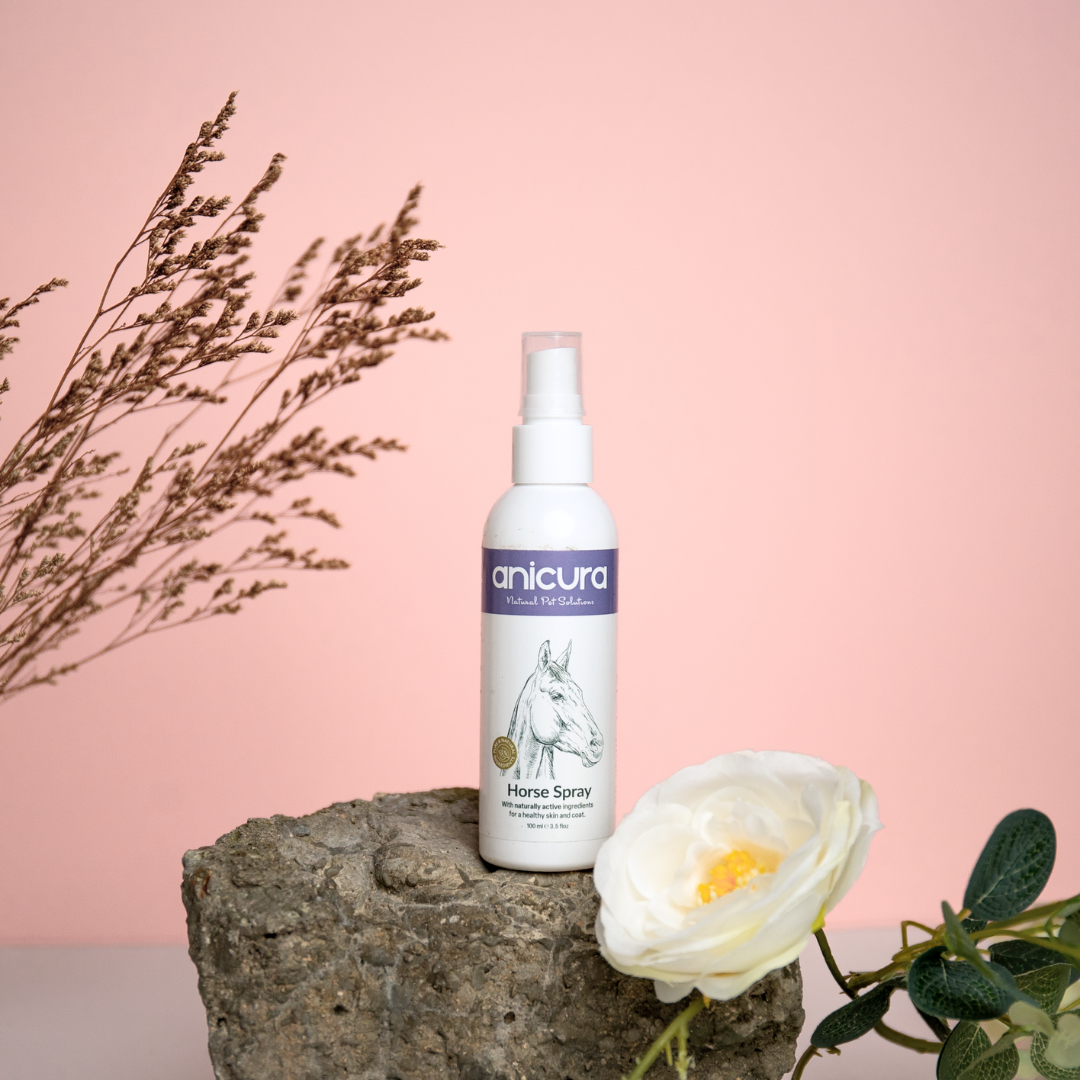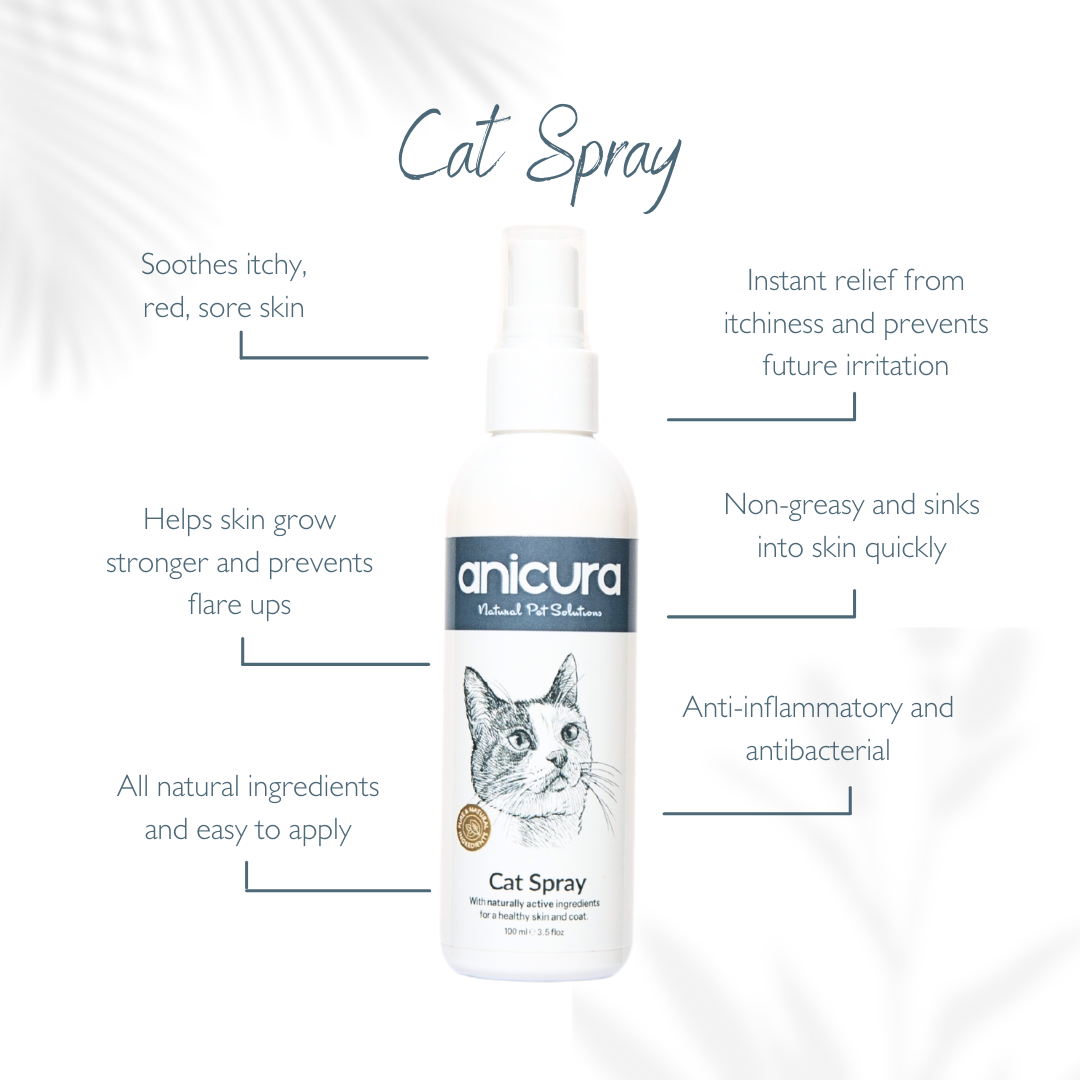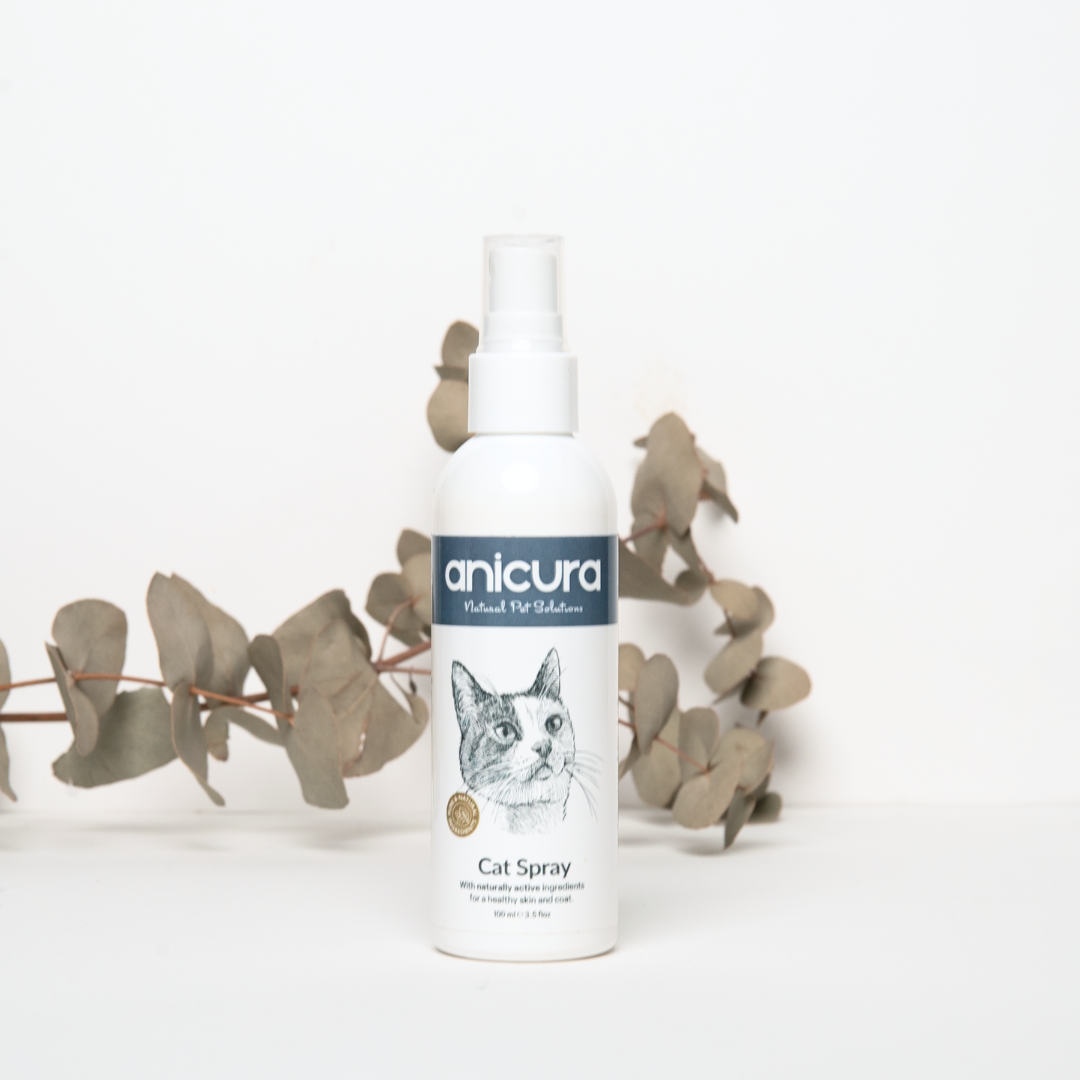 FAQs
My cat has very long or thick fur - how do I apply the Spray?

You should aim to get the Spray as close to the skin as possible. You can do this by spreading out the fur, spraying the product on and then working it further into the coat and onto the skin with your hands. You could also apply the Spray to your fingertips and run them through your cat's fur. Finally, you could apply the Spray to a brush and work it into your cat's coat by brushing.
Is it safe if my cat licks the Spray?

Yes, our Spray is safe when accidentally ingested. However, we do recommend giving the Spray as much time as possible to be absorbed by the skin and start working its magic. For that reason, if your cat has the tendency to lick the area after applying the Spray, we recommend distracting them for a few minutes with cuddles, food or toys.
How long will it take before I see results?

This is really difficult to say, as every skin is different. Some of our customers will see results after one or just a few applications, for some it may take a couple of weeks. The most important thing is applying frequently and sticking with it. The skin fully renews itself every 28 days, so one would expect a change within this timeframe.
What is the difference between the Spray and the Gel?

The Spray is great at stopping the itch/scratch cycle quickly and is easy to use on larger areas or longer fur. It has 15 natural oils and extracts that hydrate and feed the skin a plethora of vitamins and minerals. This increases the skin's strength over time and helps prevent flare ups and skin irritations.

The Gel is designed to soothe sore and inflamed skin. It can be used on broken skin to aid wound healing and is perfect to use on the face and paws, as well as targeted areas on the rest of the body. The cooling gel texture calms irritated skin quickly whilst the omega-rich formula helps nourish the area back to health.

They work very well together, as the Spray sinks quickly into the skin, and once absorbed, the Gel sits nicely on top to protect the skin and promote healing.
Guarantees
High-grade, natural ingredients

Free shipping on all orders over £25

We donate 1% of all sales to Blue Cross

30 Day Money Back Guarantee