Horse Gel
Regular price

Sale price

£13.99
Our gentle Anicura Horse Gel is designed to soothe and restore dry, irritated, inflamed skin, scabs, cuts and grazes. It is gentle and suitable to use on mud fever, rain scald, seborrhoea (dandruff), hot spots and sweet itch.
The cooling texture of the Gel instantly calms the skin, discouraging your horse from biting, scratching or rubbing the area – giving it time to heal. Meanwhile, the key powerhouse ingredients in the Gel reduce inflammation and help nourish the skin back to health.
Omega-rich formula to hydrate, calm & soothe the skin
Forms a soft layer over the skin to lock in moisture and provide protection
With antibacterial Apple Cider Vinegar and skin-boosting Sea Buckthorn
Easy application for more sensitive areas like the ears and around the mouth
Safe when accidentally ingested
For best results, use together with our Anicura Horse Spray and Horse Shampoo.
1% will be donated to
Blue Cross for pets
How to use

With clean hands, pump some Gel onto your fingers and gently massage it into the affected area, or dab on if the skin is very sore.

We recommend applying the Gel 3-4 times a day at first (although it will not do any harm if you feel you need to apply more frequently than this). When you start to see an improvement, you can reduce the frequency to 1-2 times a day. When the skin has returned to relative normalcy, you can apply every now and again to keep the skin topped up with moisture and nutrients. For best results, use in conjunction with our Horse Spray.
Ingredients

Aqua, Glycerin (Vegetable), Xanthan Gum, Fruit Acetic Acid (Apple Cider Vinegar), Hippophae Rhaminoides Seed Oil (Sea Buckthorn), Phenoxyethanol, Ethylhexylglycerin.
Share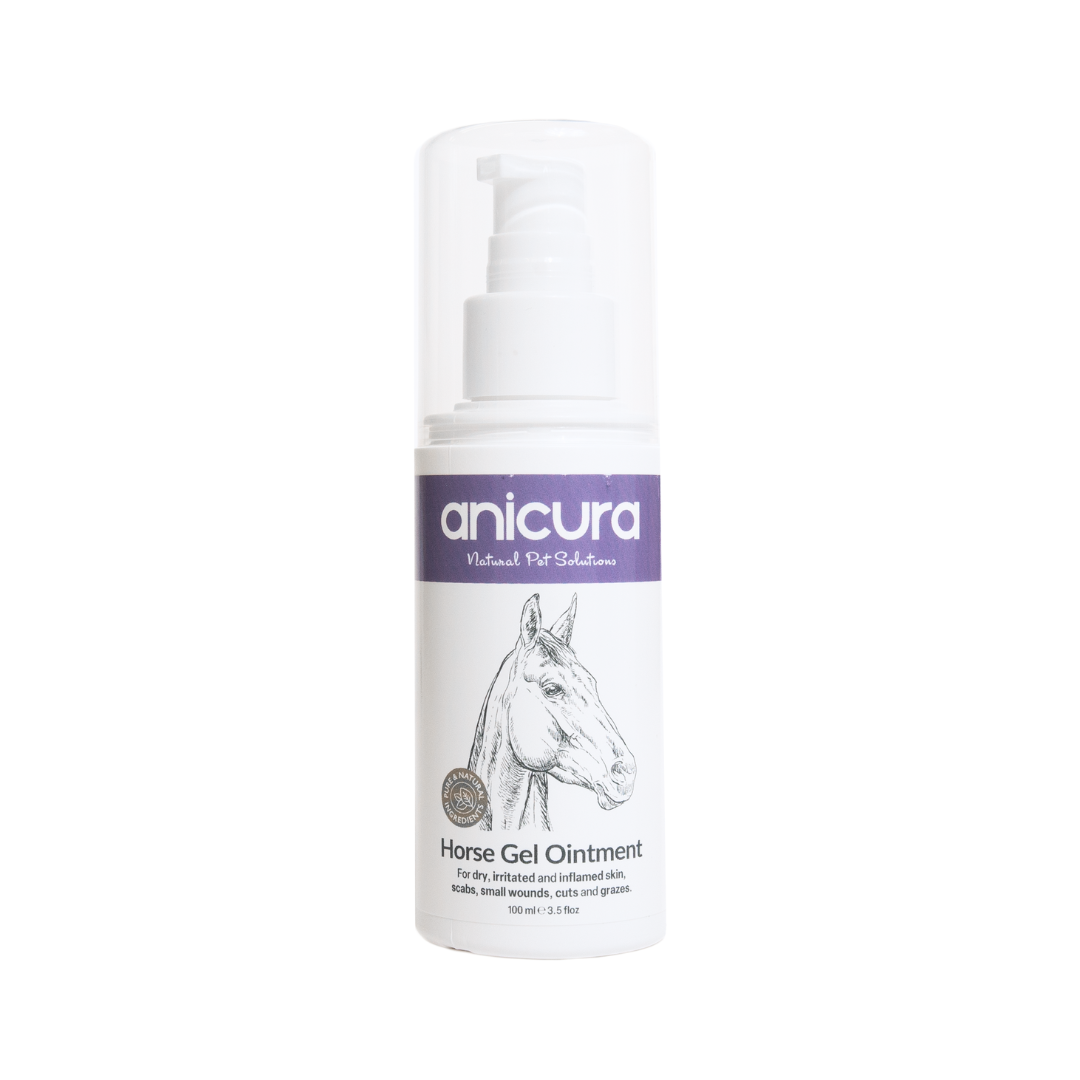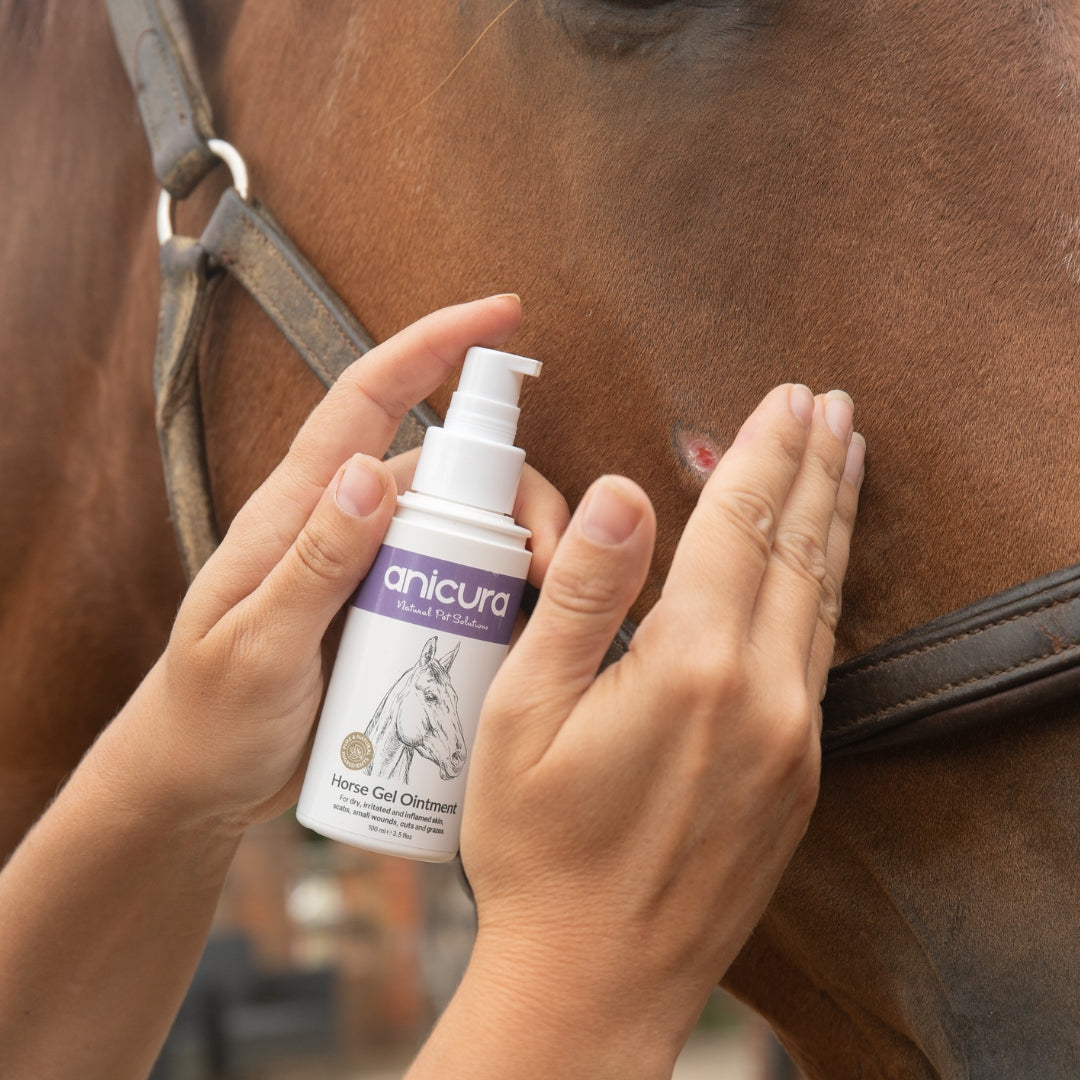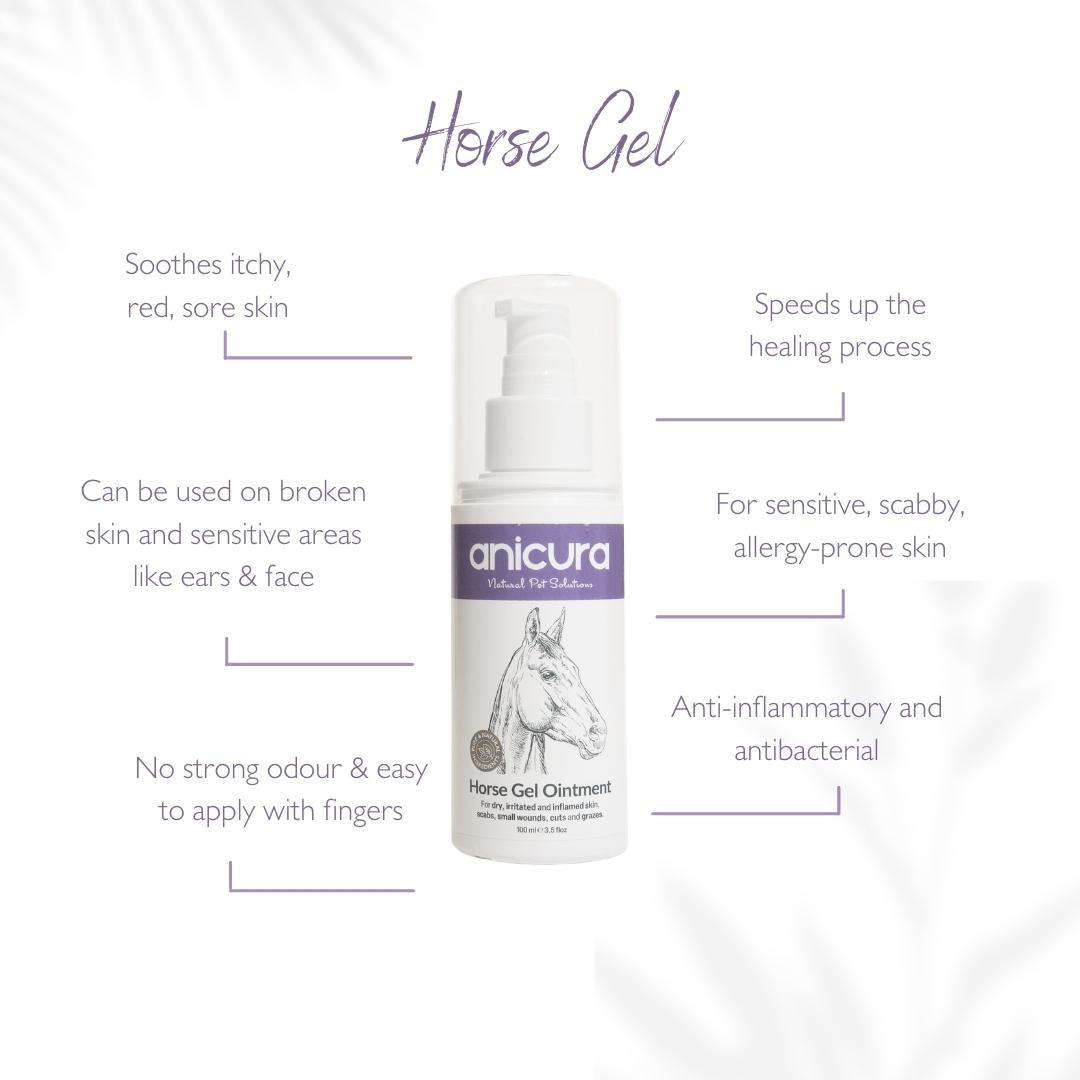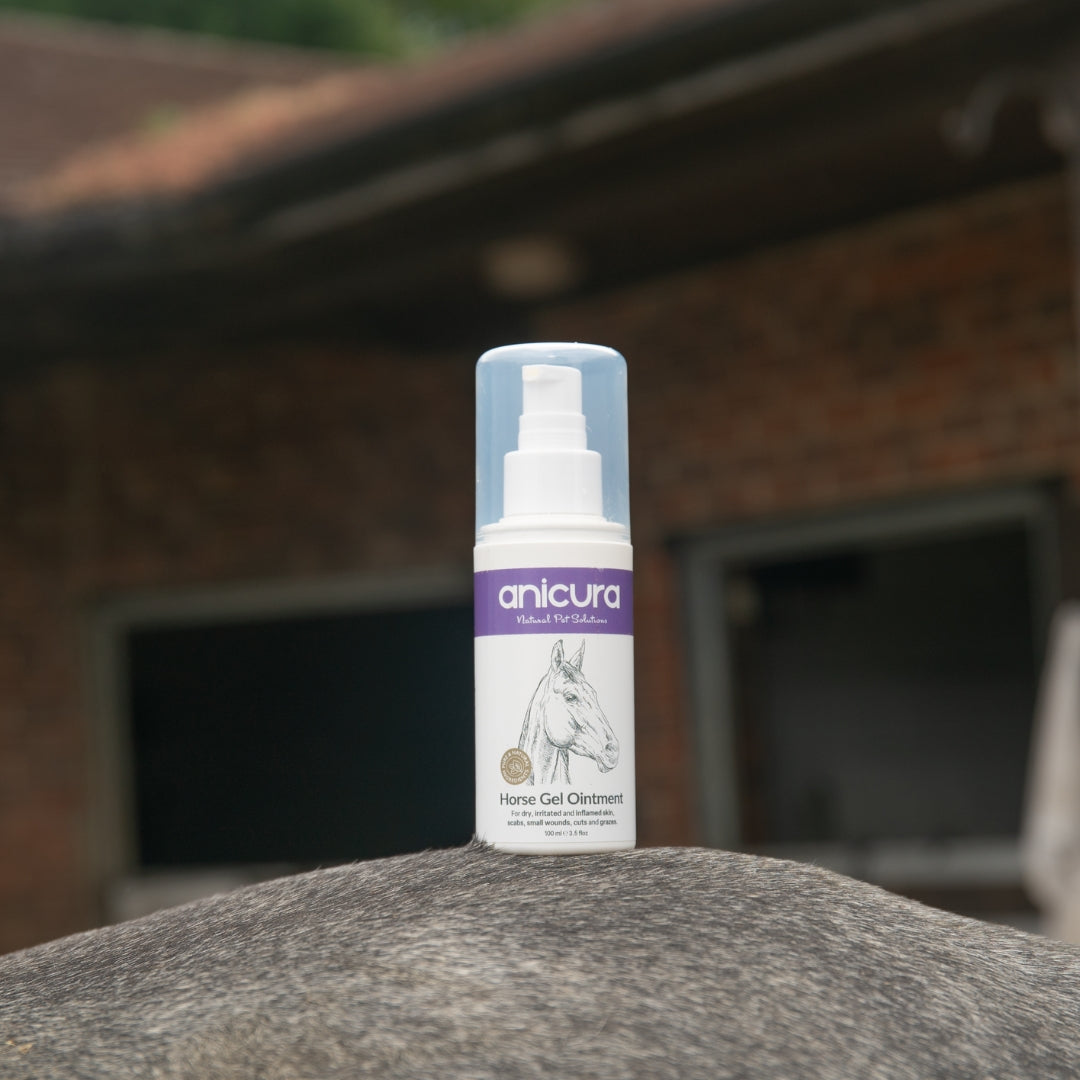 FAQs
Can I use the Horse Gel on broken skin?

Yes – our Horse Gel was specially designed to be gentle enough for super sensitive, irritated and even chapped, cracked or broken skin. It shouldn't sting - although it is important to be aware that damaged skin will already be sore, so be gentle. Please note that our Horse Gel is suitable for small sores, cuts and wounds, but please seek medical attention if your horse has a large or open wound, an infection or a large area of affected skin.
Can I use the Gel around the mouth and eyes?

Yes - it is gentle enough to be used on those sensitive areas and it's perfectly safe if your horse accidentally ingests some Gel. We do however recommend gently but properly massaging in the Gel when using it on these areas, so that the skin is able to absorb as much product as possible.
How long will it take before I see results?

This is really difficult to say, as every skin is different. Some of our customers will see results after one or just a few applications, for some it may take a couple of weeks. The most important thing is applying frequently and sticking with it. The skin fully renews itself every 28 days, so one would expect a change within this timeframe.


What is the difference between the Spray and Gel?

The Spray is great at stopping the itch/scratch cycle quickly and is easy to use on larger areas or longer fur. It has 15 natural oils and extracts that hydrate and feed the skin a plethora of vitamins and minerals. This increases the skin's strength over time and helps prevent flare ups and skin irritations.

The Gel is designed to soothe sore and inflamed skin. It can be used on broken skin to aid wound healing and is perfect to use on the face and paws, as well as targeted areas on the rest of the body. The cooling gel texture calms irritated skin quickly whilst the omega-rich formula helps nourish the area back to health.

They work very well together, as the Spray sinks quickly into the skin, and once absorbed, the Gel sits nicely on top to protect the skin and promote healing.

Guarantees
High-grade, natural ingredients

Free shipping on all orders over £25

We donate 1% of all sales to Blue Cross

30 Day Money Back Guarantee